Competitive landscape: 
Decoding the category landscape and competitive positioning: Decoding the marketing strategy of competitive brands through a review of packaging, pricing, advertising, promotions and activations. Understanding the competitive landscape will help you make better choices on how best to differentiate your proposition in the minds of your consumers.
TrendTours
Trendtours are ideal for business leaders and marketing professionals who need to quickly understand where a market is today and where it is heading tomorrow. Whether you are looking to expand into a new market or provide a greater depth of insight into an existing one, Cimigo's goal is to help you gain perspectives, develop insights and translate these into a profitable business strategy.
Cimigo's immersion and ethnography methods give you a first-hand glimpse of how your product or service fits into your customers' lives. If you are entering the market for the first time, TrendTours give you a holistic view of the eco-system in which your category operates, from customers' homes to the marketplace.
TrendTours will help you to gain a granular understanding of: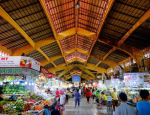 TrendTours are completely customised to your category and your needs. They typically take place over a two-day immersion itinerary including a review of the category, competition and consumer trends and ethnographic immersions to observe consumers' use and shop for brands in your category.
Consumer journeys
Consumer journeys are unveiled using ethnography to observe consumers' interacting with your category be that cooking, cleaning or enjoying a night out or on a shopping trip to the wet market. Ethnography and a subsequent in-depth interview enable Cimigo's specialists to observe first and then delve into consumer behaviour and insights as consumers' progress through different journeys. Commonly this approach looks at the needs of the consumers using the jobs to be done approach (first put forward by Professor Christensen and others). The model is simple and helps re-frame the customer journey into understanding which needs the consumer has, which are being met and where there is room to create new products or improve a brand's solutions to their needs.
Trade insights
Cimigo deploy store audits and in-depth interviews with distributors, wholesalers, retailers and store managers. This helps to unveil the trade's motivations, trade terms and service gaps with existing brands so you may make better choices when optimising trade marketing concepts.
Business intelligence
Business intelligence deploys in-depth interviews to understand a market landscape and profile; key players, the market size and growth drivers, the value chain, the route to market, the opportunities, the challenges and the trends of a particular industry and market.
Cimigo researchers will interview business decision makers of all types and sizes, distributors, wholesalers, retailers, and specific experts in the market for example; trendsetters, designers, technical specialists, front line staff, healthcare professionals, architects, contractors, chefs, baristas, farmers, craftsmen etc.
Each case is designed to provide the intelligence required to from a clear view of the dynamics in any given market and help direct your marketing strategy.