Output growth at three-month low amid COVID-19 outbreak
New orders continue to rise but at a slower pace.
Near-record increase in backlogs of work.
Output price inflation steepest in more than a decade.
Cimigo market research has collected the Vietnam PMI – manufacturing purchasing managers index since 2013. The Vietnam PMI is compiled by IHS Markit from responses to monthly questionnaires sent to purchasing managers in a panel of around 400 manufacturers.
Vietnam PMI findings
There were signs that the latest outbreak of COVID-19 infections in Vietnam impeded growth in the manufacturing sector during May. Rates of expansion in output, new orders and employment all softened from the previous month, while firms signalled difficulties in completing orders and securing materials.
A further sharp increase in input costs fed through to the steepest selling price inflation for just over a decade.  The Vietnam Manufacturing Purchasing Managers' Index™ (PMI®) posted 53.1 in May, down from 54.7 in April. The latest reading signalled a sixth successive improvement in business conditions and one that was solid despite weakening from the previous month.
Latest data and anecdotal evidence from respondents suggested that the recent outbreak of the COVID-19 pandemic limited growth of both output and new orders midway through the second quarter of the year.  The rate of expansion in production eased to a three-month low but remained solid as new orders continued to rise. The same was true for new business, which increased at the softest pace since February but for the ninth month running.
Solid growth was also recorded for new business from abroad as some export markets showed signs of recovery from the COVID-19 pandemic. Rising case numbers also impacted hiring in the Vietnamese manufacturing sector. Employment increased for the fourth consecutive month, but only modestly.  Staff shortages contributed to a near-record rise in backlogs of work as firms struggled to cope with inflows of new orders. Outstanding business accumulated to the greatest extent in more than a decade. 
Operations were also hampered by a marked lengthening of suppliers' delivery times, the greatest in just over a year. Again, the pandemic was a factor behind longer lead times, with shipping delays and material shortages also highlighted. Despite delivery delays, firms expanded both their quantity and stocks of purchases amid efforts to build reserves. That said, in both cases rates of increase were slower than in April.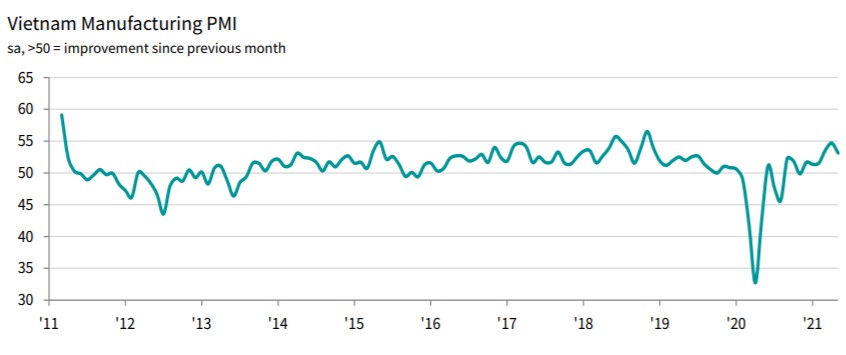 Stocks of finished goods, meanwhile, were broadly unchanged amid the use of inventories to help meet new orders while production volumes were restricted. The stabilisation ended a three-month sequence of rising stocks of finished goods. The rate of input cost inflation quickened to a 40-month high in May. Supply shortages contributed to rising raw material prices, with iron, oil and steel all mentioned in particular as costing more. Higher freight prices were also signalled. In turn, manufacturers raised their own selling prices at a substantial pace. Moreover, the rate of inflation was the fastest in just over a decade, and the third-steepest since the survey began.

Business sentiment eased to a three-month low on worries about the COVID-19 outbreak, but firms remained optimistic overall that output will increase over the coming year. Hopes that the virus will be brought back under control and the prospect of further new order growth supported confidence.
Approach
The IHS Markit Vietnam Manufacturing PMI® is compiled by IHS Markit from responses to monthly questionnaires sent to purchasing managers in a panel of around 400 manufacturers. The panel is stratified by detailed sector and company workforce size, based on contributions to GDP.
Survey responses are collected by Cimigo Vietnam in the second half of each month and indicate the direction of change compared to the previous month. A diffusion index is calculated for each survey variable. The index is the sum of the percentage of 'higher' responses and half the percentage of 'unchanged' responses.
The indices vary between 0 and 100, with a reading above 50 indicating an overall increase compared to the previous month, and below 50 an overall decrease. The indices are then seasonally adjusted.