COVID-19 outbreak leads to sharp fall in
manufacturing output
Steepest reductions in output and new orders for over a year.
Second-fastest decline in employment on record.
Selling prices up only marginally.
Cimigo market research has collected the Vietnam PMI – manufacturing purchasing managers index since 2013. The Vietnam PMI is compiled by IHS Markit from responses to monthly questionnaires sent to purchasing managers in a panel of around 400 manufacturers.
Vietnam PMI findings
The latest wave of COVID-19 cases in Vietnam led to a sharp decline in business conditions for manufacturers during June. Output and new orders both decreased at the sharpest rates since the first outbreak of the pandemic in early-2020, while firms scaled back their employment and purchasing activity accordingly.
The pandemic also impacted supply chains, resulting in a near-record lengthening of delivery times.  Meanwhile, the rate of input cost inflation remained marked but slowed sharply from that seen in May, and firms raised their own selling prices at only a marginal pace amid weaker demand. 
The Vietnam Manufacturing Purchasing Managers' Index™ (PMI®) dropped sharply to 44.1 in June from 53.1 in May, pointing to the sharpest deterioration in business conditions for over a year and ending a six-month period of growth.
The COVID-19 pandemic, lockdown measures and temporary company closures were all mentioned as factors leading to sharp reductions in both output and new orders during June.
Meanwhile, new business from abroad also decreased as transportation issues and container shortages exacerbated the impacts of the rise in virus cases. These transportation issues, added to material shortages and restrictions linked to the pandemic, led to a marked lengthening of suppliers' delivery times. In fact, the extent of delays was the second-largest on record, just behind that seen in April 2020.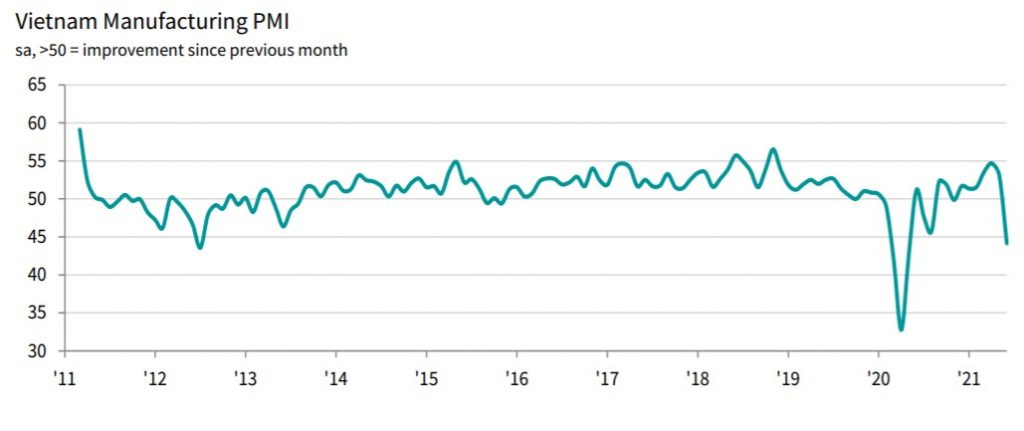 Manufacturers in Vietnam responded to falling workloads by cutting back their staffing levels and purchasing activity at the end of the second quarter. Employment decreased for the first time in five months, and at a sharp pace that was the second-fastest since the survey began in March 2011. 
Similarly, purchasing activity fell at the fastest pace since April 2020 following the initial outbreak of
the pandemic. Declining input buying fed through to a steep reduction in stocks of purchases. Stocks of finished goods also decreased in June, following broadly no change in May. Falling production and a desire to hold less stock amid declining new orders were behind the reduction in stocks of finished goods.
Firms were able to deplete their backlogs of work for the first time in three months in line with lower new orders, and at a sharp pace that was unprecedented prior to the COVID-19 pandemic. There were signs of inflationary pressures easing in June as a lack of demand across the sector led to reduced pricing power.
Although input costs increased at the slowest pace in seven months, the rate of inflation remained above the series average amid reports of material shortages leading to higher prices. Metals were mentioned in particular as costing more. Output prices, meanwhile, rose only marginally as firms responded to a lack of demand.
Business confidence fell to the lowest since August last year, reflecting concerns about the ongoing impact of the pandemic. That said, firms remained optimistic overall that output will increase over the coming year.
Approach
The IHS Markit Vietnam Manufacturing PMI® is compiled by IHS Markit from responses to monthly questionnaires sent to purchasing managers in a panel of around 400 manufacturers. The panel is stratified by detailed sector and company workforce size, based on contributions to GDP.
Survey responses are collected by Cimigo Vietnam in the second half of each month and indicate the direction of change compared to the previous month. A diffusion index is calculated for each survey variable. The index is the sum of the percentage of 'higher' responses and half the percentage of 'unchanged' responses.
The indices vary between 0 and 100, with a reading above 50 indicating an overall increase compared to the previous month, and below 50 an overall decrease. The indices are then seasonally adjusted.