Cimigo explored Vietnamese consumer behaviour towards Vietnam e-payments and mobile wallets and the future of payments. The nascent e-payments and mobile wallet market has attracted a plethora of competitors and private equity financing has followed for start-ups, whilst banks have raced to launch mobile applications to fend of increased competition from fintech players. Some banks have opted to invest in mobile wallet companies (e.g. Standard Chartered was an early investor in Momo).
15 minutes read
Understand the rise of e-payments and mobile wallets in Vietnam
In quarter one of 2019 Cimigo interviewed 725 consumers aged 18 to 55 in HCMC and Hanoi from economic class ABC (above 9,000,000 VND household monthly income) to understand the rise in e-payments and mobile wallets.
Revenue is generated through commissions collected from merchants and charging users service fees when they conduct online transactions and payments through mobile wallets or payment gateway platforms.  Most key players have access to a wide customer base either through:
A pre-established online presence through other developed services and platforms e.g. VTpay via the VietTel mobile network operator, Samsung Pay via pre-installation on smartphone handsets, or Zalo Pay through instant messaging application and other properties within Vinagame's eco-system (although they are yet to be fully integrated).
Partnerships with other large corporations e.g. Grab Pay by Moca.
There are 30 licensed non-bank payment intermediary services according to the State Bank of Vietnam, with around 20 of these services offer mobile wallets. See a detailed list here.  More than 40 banks also provide mobile payment services. Four main models are apparent;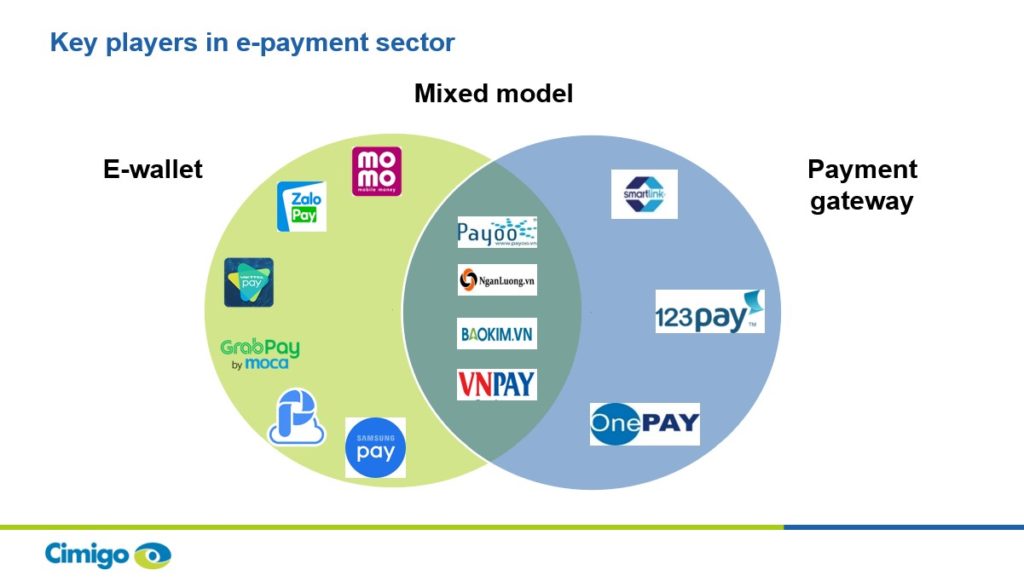 Mobile e-wallet:  An e-payment service that allows users to make online payments via a mobile wallet account. Users do not need to have a bank account in advance.
An e-payment service platform that offers electronic portals to enable online payment processing via bank accounts. Users need to have a bank account in advance.
A mixed business model where the company will provide both a mobile wallet and payment gateway services.
Banks have launched their own mobile applications for payments.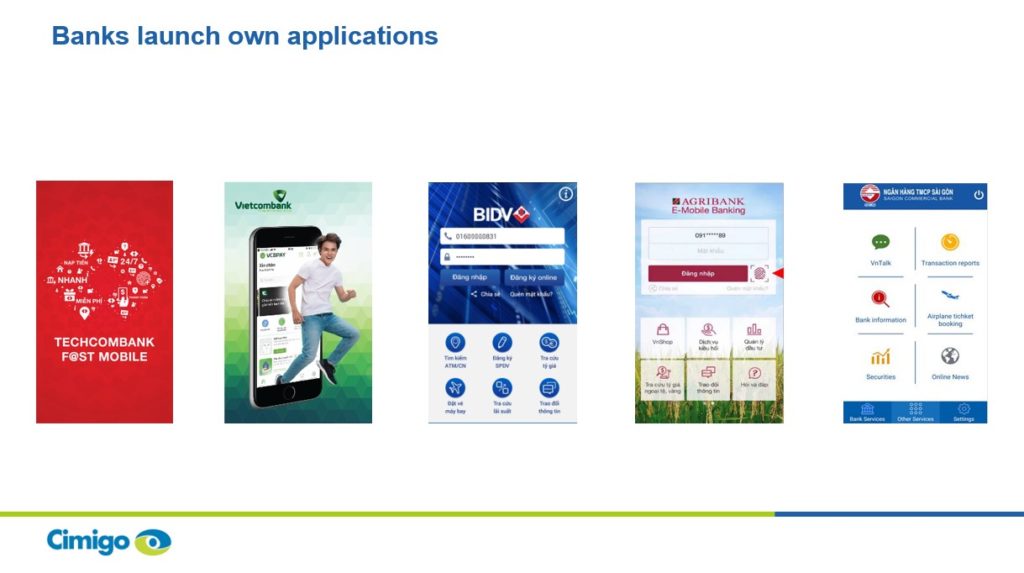 Opportunity for e-payments and mobile wallets in Vietnam
The future opportunity for e-payments in Vietnam has four driving forces;
Barriers to faster consumer adoption of e-payments
With 80% of grocery sales emanating from the traditional trade, arming merchants with e-payment facilities is the biggest challenge to driving growth of e-payments.   The merchants are mostly small and micro businesses that are happy to transact in cash and are not willing to pay transaction fees, pay for mobile data up-links nor invest in point of sale software.
Vietnam has a highly organised cash on delivery (COD) system, whether it is online shopping where Cimigo found that 88% paid for cash on delivery (COD) or the ability to pay cash at the doorstep for utilities.  Both are highly efficient and convenient for consumers.   Lessor yet additional barriers include;
People do not always trust financial institutions data privacy and transaction. When you can find bank customer databases online this is off little surprise.
Secrecy and the avoidance of transparency with authorities for consumers and merchants alike.
It is difficult for cash users to transition to digital methods of payment, as it is a new experience for them.
E-payment and mobile wallet use amongst Vietnamese consumers
Cash is the only payment method used by 5 in 10 respondents. Remember that the audience for this study is the top 50% of household wealth in urban HCMC and Hanoi. Bank mobile applications (30%) and mobile wallets (29%) are the most common e-payment methods, both are ahead of credit card usage (23%) in the past three months.
Bear in mind this is not a proportion of transactions (nor the value of those transactions) but merely a prevalence rate.  That is, the proportion whom has transacted at least once in the past three months using the said method.  It is too easy to generate click-bait hype around e-payments and mobile wallets by misquoting data. A classic case in point are false headlines generated from a management consulting report claiming that 60% of the Vietnamese population use mobile payments, which is clearly a fantasy, fueling further ignorance and misinformed hype.
Many mobile wallets users also use a bank's mobile application (or vice versa).   E-payment users are typically young, high-income white-collar professionals. They are mostly initially recruited by promotions for cash back or discounts; be that a cash back of 200,000 VND on an electricity bill or 20% off their favourite bubble tea.
The leading bank mobile application transactions are for money transfers, postpaid mobile credit top ups and paying utility bills. Whilst the leading mobile e-wallet transactions are primarily for food and beverage delivery and postpaid mobile credit top ups.
User experience (UX) with e-payments and mobile wallets in Vietnam
Perceptions towards e-payments are stark in their dichotomy; e-payment and mobile wallets are perceived as fast, simple and cheap. Contrasting with bank cards which are associated with a good reputation, large networks and a stable secure system.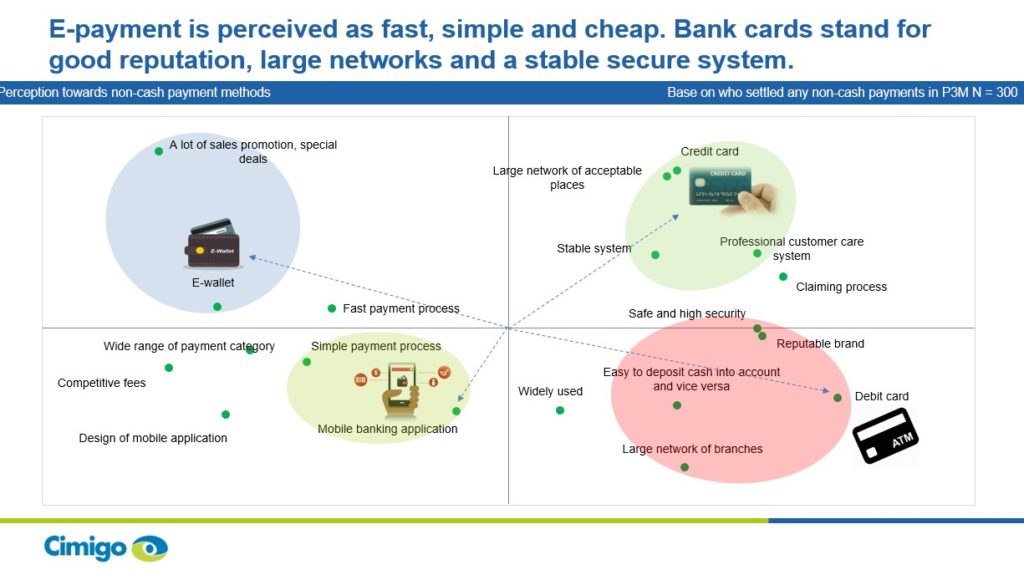 Mobile wallet early successes in Vietnam
Mobile e-wallets are dependent on promotions to drive transaction volume,  the most satisfying aspect experienced from e-wallet users is the simple process and then the promotions. Mobile e-wallets are the payment method with the highest net promoter score for recommendations (likelihood to recommend), compared with all other methods.
7 in 10 mobile e-wallet users top up wallets directly from their bank account with an average of 1,000,000VND.  Momo is the most salient mobile e-wallet by far, 9 in 10 consumers will mention Momo first when asked to recall mobile e-wallet brands. Momo achieves the highest use share with three quarters of mobile e-wallet users reporting to use Momo, this is followed by Zalo Pay, VT Pay, Grab Pay (Moca) and AirPay.
Compared to other payment methods, mobile e-wallets have the advantage on ease, speed, rewards, promotions and low fees. They have a strong user experience and high net promoter score.  Whilst bank mobile applications provide a good user experience, they lack rewards, promotions and have a poor reputation for customer care.
Mobile e-wallet providers still face State Bank hurdles with the inability to provide interest nor credit and the necessity to be linked to a bank account (and that providers are prohibited from issuing more than one wallet to the same bank account).
Vietnam e-payment and mobile wallet futures
Compared with bank mobile applications, mobile e-wallets have far greater consumer centricity and have much to teach banks, ultimately, they could perhaps provide a good distribution (and marketing channel) for an extended range of financial services. However, if banks can step up their customer centricity, mobile e-wallets may struggle for a meaningful role in consumer payments.  Momo leads the market today, but faces increased competition for smartphone real (screen) estate, saliency and continued meaning in consumer lives.
Zalo is the leading instant messenger application in Vietnam, but has failed to leverage this reach and thus far it has not effectively integrated Zalo Pay.   With Tencent (WeChat) as a shareholder, ambitions to be replicate the WeChat super application eco-system and payments must be ever present boardroom conversation.  Grab Pay by Moca continues to expand its role in consumer lives beyond ride hailing; to food and to payments. Like Zalo Pay, Grab Pay is a contender for creating a super application we cannot live without.
Only the Vietnamese consumer can win in the short term
A diverse set of international and local competitors from Apple, Facebook, Visa, GoViet, Bao Viet and VIMO will join the battle and seek to win dominance in mobile enabled e-payments. The battle will be long and the investments losses substantial. Much like Vietnam's online shopping platforms, until a dominant player can comfortably increase fees and cease to subsidise transactions, the only winner will be the consumer.
End.