Indonesia market research agency Cimigo reviews Jakarta's new MRT
Indonesia market research agency Cimigo spoke to residents of Greater Jakarta in May 2019 to determine what do the public think about the MRT so far? How is the riding experience? How is the MRT serving commuters?
12 minute read.
Phase 1 of the Jakarta MRT (Mass Rapid Transit (Moda Raya Terpadu), the long-awaited public transport solution for Jakarta's notorious traffic gridlock, was officially launched on 24 March 2019 after construction over 5+ years. By May, the system carried 70,000-80,000 passengers per day on weekdays and 90,000 or more per day on weekends and holidays.
Public opinion towards the MRT
With a relatively smooth and incident-free start, almost all had something good to say about the Jakarta MRT. The overwhelming public sentiment sees the MRT as a great time-saving solution to beat and reduce Jakarta's traffic congestion. It is a point of pride for Jakarta and Indonesia as it introduces a modern, safe and reliable public transit system in the footsteps of other developed cities in the region.
Many also praised the MRT train's modern design and comfortable interior, and how the stations are modern and located near many of Jakarta's landmarks and "hotspots".
The MRT is symbolic of how far Jakarta (and by proxy, Indonesia) has progressed and its arrival both supports and embodies the city's prolific growth.  Indonesia market research agency Cimigo, provided a glowing review and is highly encouraging even in this "honeymoon" period for such a high profile public project.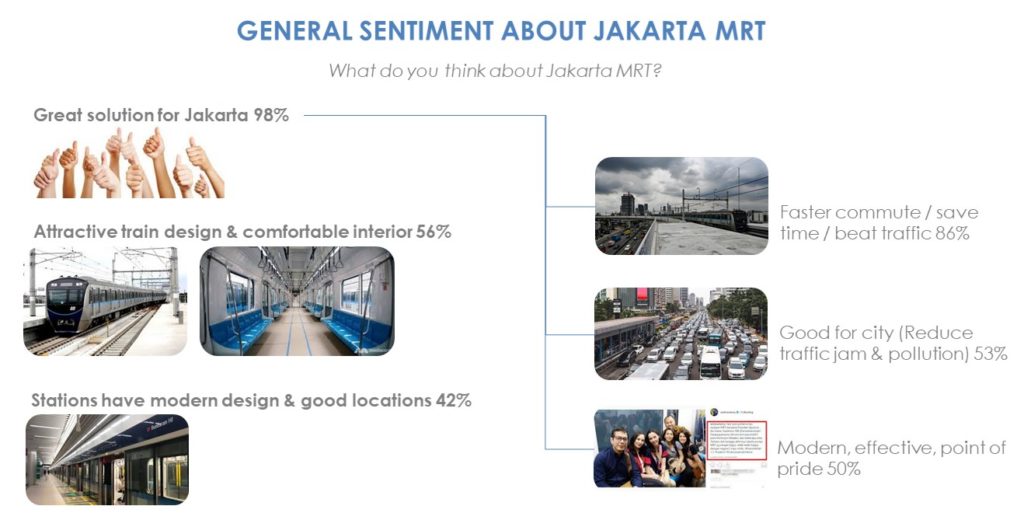 Key stations see the most rider traffic
The initial phase consists of 13 stations serving one of the city's main thoroughfares, from the iconic Bundaran HI in Central Jakarta, to Lebak Bulus in South Jakarta. The four end-line stations – Bundaran HI and Dukuh Atas in Central Jakarta, and Fatmawati and Lebak Bulus in South Jakarta – are currently the most frequent departure stations by MRT riders. Indonesia market research agency Cimigo expect this to remain the case at least in the near future, with riders taking advantage of the MRT's relative speed and reliability to traverse the maximum distance possible and bypass road traffic in either direction.
The four most popular arrival or alighting stations tend to be "strategic" stations serving key destinations. Bundaran HI station is located at the heart of Jakarta and is close to several popular shopping malls; Senayan station serves the Senayan sports complex which houses a stadium and convention centre; Blok M station is connected to another shopping mall and is also an important transfer point to the Blok M bus terminal; Lebak Bulus is currently the closest station for commuters living in Jakarta's southernmost suburbs.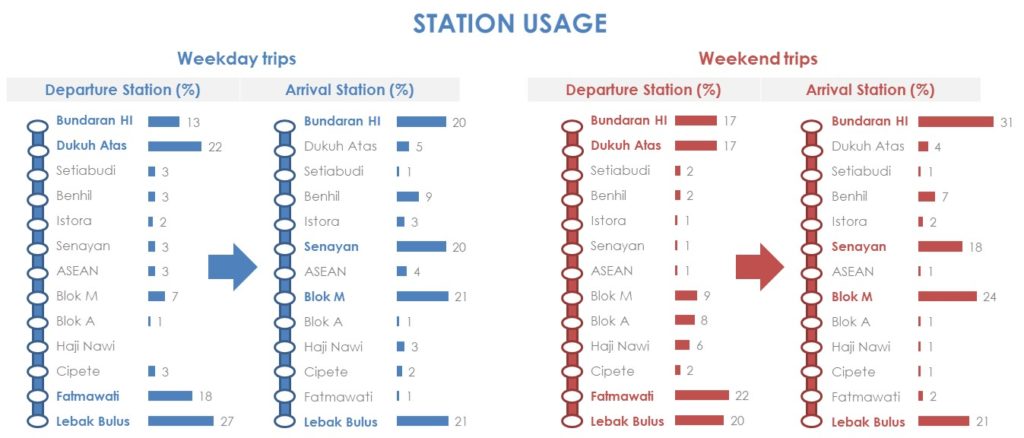 Jakarta MRT passengers are highly pleased
Indonesia market research agency Cimigo asked riders about their experience with the MRT. Passengers are highly pleased. The stations, being in pristine condition, received high marks for cleanliness and comfort. The newly operational trains were the high point of their experience, with half or more stating they were "very satisfied" with the trains' punctuality, comfort, and speed in reaching its destination. We can safely say that Phase 1 of the Jakarta MRT has achieved its objective of being a speedy and reliable way to beat Jakarta's traffic, at least along its current operational line.
Currently over 9 in 10 riders stated they are "satisfied" overall with the MRT and complaints are relatively few. As far as new launches go, the MRT is riding high and impressing the public, with 2 in 5 riders giving their strong approval by saying they are "very satisfied" with the experience.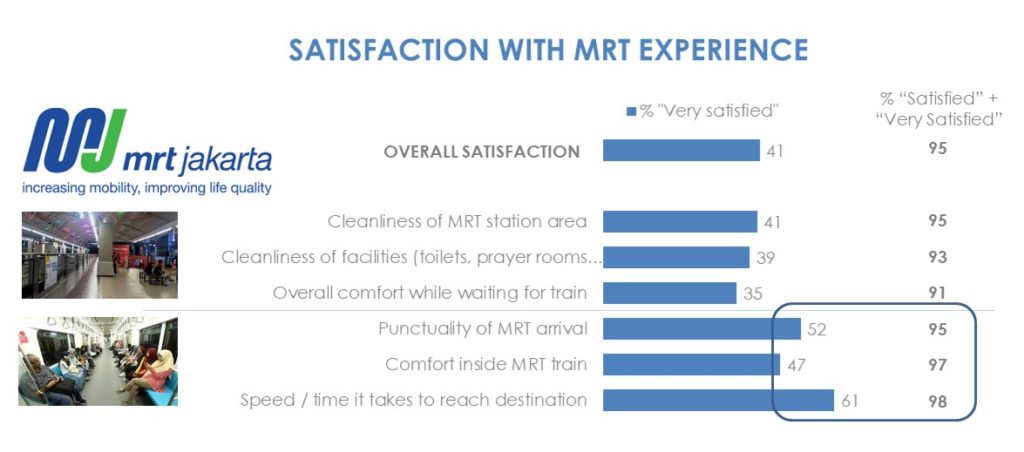 Building infrastructure projects at a rapid pace and opening them with great fanfare seems to be Indonesia's signature feature under the current government. Ensuring that these projects are maintained and kept viable over the long run is a different issue altogether. For an example, one needs to look no further than at Jakarta's "busway" or TransJakarta bus service, with its buses and bus stops in various states of ill repair. It will be interesting to see whether the MRT authorities and commuters can work together to keep the MRT stations and trains in good working condition in the coming years, which will be a positive precedent for Indonesian public transport systems.
New system, new riders
Trends come and go quickly in Jakarta and a revealing yet unsurprising finding is that many MRT riders are riding the MRT for the novelty and to partake in a "trending" experience. In many ways, the MRT is THE hot new attraction in Jakarta.
Indonesia market research agency Cimigo found 3 segments of MRT riders, each with unique riding behaviors and motivations.
Only slightly less than half of the MRT riders we spoke to were what we can call commuters who use the MRT regularly: 18% of MRT riders are Heavy Users – they are likely to be most well-served by the existing line and rely on the MRT for their daily transport for a variety of purposes including work and recreation; 27% are Weekday Warriors, the truest commuters who ride the MRT exclusively on weekdays to get to work or school.
55% of MRT riders we spoke to fall into the Fun Seekers segment. These are occasional MRT riders who mostly ride the MRT for recreational or novelty purposes mainly on weekends. It's no surprise that half of Fun Seekers expressly ride the MRT to show off their experience on social media!
Ojek Online provide 1st and last mile MRT access
Jakarta is an extremely dense  urban area that literally sprawled over centuries. Even as the Jakarta administration works to fulfill its plans of an integrated public transport system, no public transport network can cover all of Jakarta's little nooks and alleys. This is where motorcycle taxis come in.
Indonesia market research agency Cimigo first covered the then-rapid rise of online app-based motorcycle taxis in 2016, read more here. These "Ojol" or Ojek Online have since become ubiquitous in Jakarta and other major cities in Indonesia.  Not surprisingly Cimigo find that they are a crucial first-mile and last-mile transport option for MRT riders.
Indonesia market research agency Cimigo anticipate that they will continue to play an important role for MRT commuters and the MRT administrators seem to acknowledge this as well by designating Ojek Online drop-off and pick-up areas in most stations.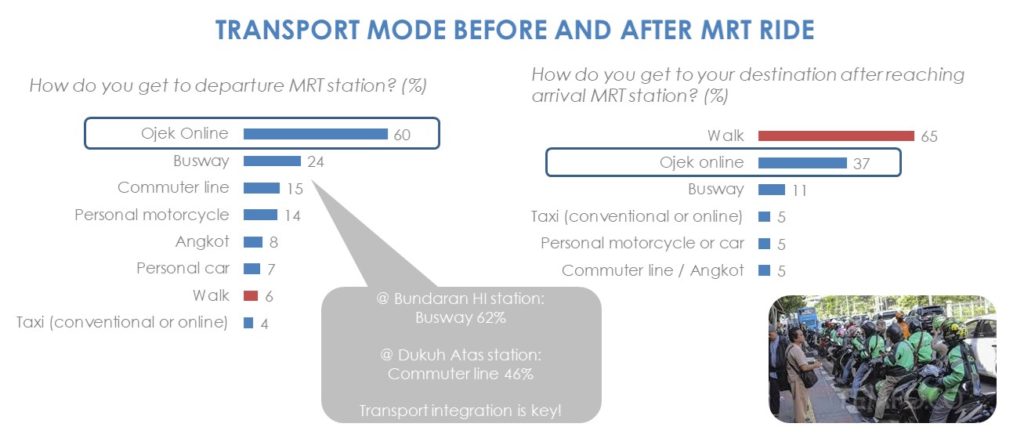 Minor gripes, points for improvement
Despite the overwhelmingly positive reviews and sentiments towards the Jakarta MRT, nothing is perfect and a few issues were raised by a small minority of MRT riders who have experienced them firsthand. Indonesia market research agency Cimigo expect some of these issues to be fixed over time, such as lack of station facilities (garbage cans, parking areas) and limited MRT network coverage. It remains to be seen if other issues such as difficult station access (steep stairs, lack of escalators), disorderly passengers, and ticket transaction problems (payment machines not working, single use ticket difficult to use) will be picked up and actioned by MRT authorities.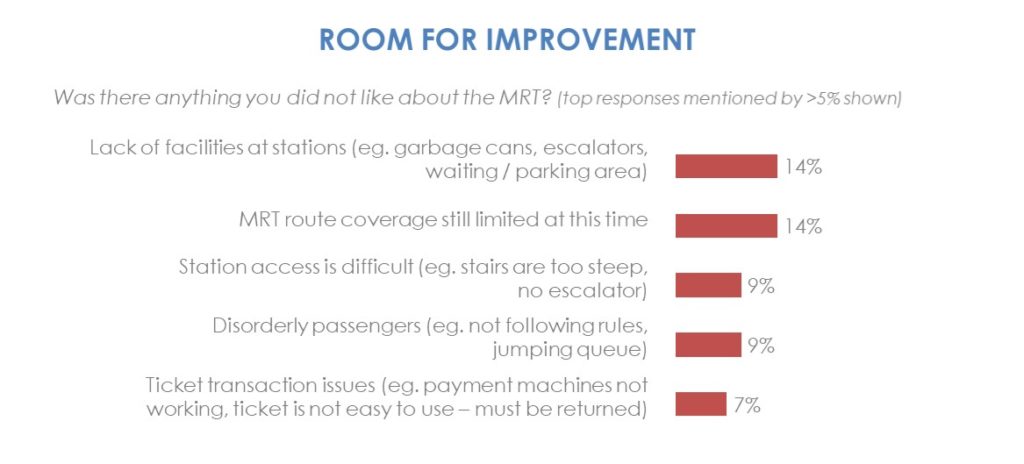 MRT future
In the short term, the Jakarta MRT is likely to continue drawing interest and riders. Trial intention for the MRT is near universal, 97% of non-riders claim they want to try the MRT at some point in the near future, although we think many of these will be novelty seekers and not necessarily future commuters. We also note that enthusiasm for the MRT is very high, with 2 in 5 (43%) of non riders claiming they will "definitely try" riding the MRT.
Indonesia market research agency Cimigo see a bright future ahead for Jakarta's MRT. It has been proven to deliver its promise as a transport solution and usage is likely to rise as its network expands to cover a bigger portion of Jakarta commuters and destinations.