Output returns to growth in February.
The sustained growth of new orders supports the rise in output.
Cost inflation remains sharp amid ongoing supply chain disruption.
The business sentiment at a six-month low.
Cimigo market research has collected the Vietnam PMI – manufacturing purchasing managers index since 2013. The Vietnam PMI is compiled by IHS Markit from responses to monthly questionnaires sent to purchasing managers in a panel of around 400 manufacturers.
Vietnam PMI findings
February data pointed to an overall improvement in the health of the Vietnamese manufacturing sector. New order growth was maintained, while there were renewed increases in output, employment and purchasing.
Business confidence continued to wane, however, amid concerns about the ongoing impact of the coronavirus disease 2019 (COVID-19) pandemic. The rate of input cost inflation remained sharp as global demand for raw materials continued to outpace supply, and there were again marked delays in the receipt of purchased items due to worldwide shipping problems.
The Vietnam Manufacturing Purchasing Managers' Index™ (PMI®) ticked up to 51.6 in February from 51.3 in January, signalling a modest improvement in business conditions. The health of the sector has now strengthened in three successive months.
Sustained growth of new orders was recorded, helping to drive the improvement in overall business conditions. New work has now increased in six successive months.  Total new orders were supported by a return to growth of new export business amid some signs of improving international demand. Rising new orders was the main factor behind a return to growth of manufacturing production. The slight increase was also partly attributed to efforts to build stocks of finished goods. These efforts were successful in bringing an end to a four-month sequence of falling post-production inventories.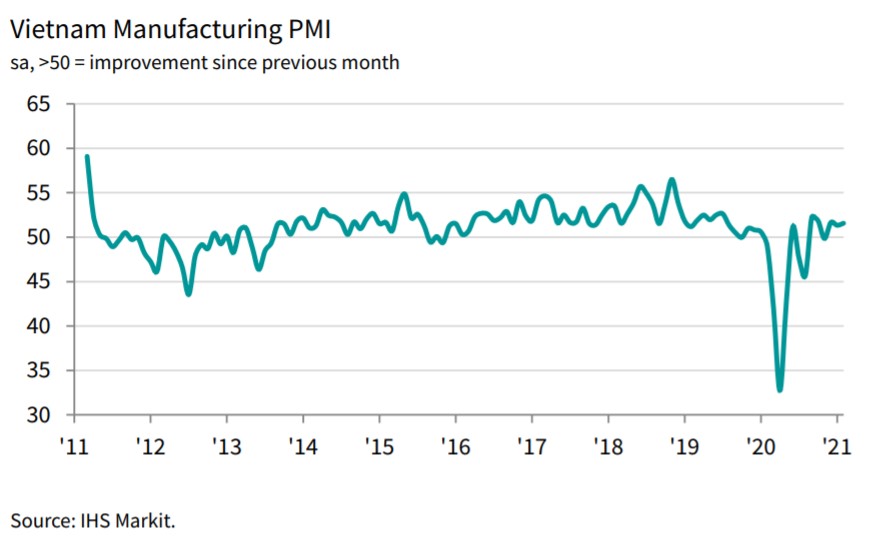 Employment increased for the second time in three months as firms responded to rises in demand and production requirements. This enhanced capacity meant that firms were able to keep on top of workloads and reduced outstanding business again. A renewed expansion of buying activity was also recorded, but stocks of purchases continued to fall amid the use of inputs to support production.
Problems securing raw materials also contributed to falling stocks of purchases. Suppliers' delivery times lengthened sharply again. Difficulties sourcing goods from abroad due to a lack of shipping containers and global demand for materials outpacing supply continued to cause longer lead times.  These imbalances led to a further sharp increase in input costs in February. Although the rate of inflation eased to a three-month low, the rise in input prices was still faster than the average seen across the ten-year survey so far.
Manufacturers responded to higher input costs by raising their own selling prices accordingly. That said, the rate of inflation was modest and the slowest since last November. Business confidence continued to wane in February, dropping for the third month running to the lowest since August 2020. Sentiment was hit by concerns over the ongoing impact of the COVID-19 pandemic. That said, firms remained optimistic on balance, with hopes that the pandemic will be brought under control over the coming year supporting confidence.
Approach
The IHS Markit Vietnam Manufacturing PMI® is compiled by IHS Markit from responses to monthly questionnaires sent to purchasing managers in a panel of around 400 manufacturers. The panel is stratified by detailed sector and company workforce size, based on contributions to GDP.
Survey responses are collected by Cimigo Vietnam in the second half of each month and indicate the direction of change compared to the previous month. A diffusion index is calculated for each survey variable. The index is the sum of the percentage of 'higher' responses and half the percentage of 'unchanged' responses.
The indices vary between 0 and 100, with a reading above 50 indicating an overall increase compared to the previous month, and below 50 an overall decrease. The indices are then seasonally adjusted.