Output returns to growth in December.  
A sharper rise in new orders supports an increase in production.
Suppliers' delivery times lengthen markedly.
Fastest rise in input costs since June 2018.
Cimigo market research has collected the Vietnam PMI – manufacturing purchasing managers index since 2013. The Vietnam PMI is compiled by IHS Markit from responses to monthly questionnaires sent to purchasing managers in a panel of around 400 manufacturers.
Vietnam PMI findings
The Vietnamese manufacturing sector ended 2020 in growth territory as business conditions improved following the disruption caused by a succession of storms in November. Output, new orders and employment all increased, while firms were confident in the 12-month outlook for production.
Increasing supply chain disruption was evident, however, contributing to accelerated rates of inflation of both input costs and output prices.  The Vietnam Manufacturing Purchasing Managers' Index™ (PMI®) rose to 51.7 in December, up from 49.9 in November and returning to a level broadly in line with that seen in October.
The latest figure signalled a modest improvement in business conditions in the Vietnamese manufacturing sector, the third in the past four months. Data signalled a return to growth of manufacturing output as production volumes recovered from the storm-related disruption in the previous month. New order growth was central
to the expansion in production.
New business increased for the fourth successive month, and at a solid pace that was faster than that seen in November.  Improving customer demand was reported by panellists. Demand also strengthened in international markets. New export orders increased for the first time in three months. Higher new orders fed through to increased production requirements, thereby encouraging firms to expand their staffing levels.
December saw employment rise modestly for the second time in three months. Rising production and expanded workforce numbers meant that firms were able to reduce backlogs of work, and to the greatest extent since August. In line with the picture for output and employment, purchasing activity returned to growth in December.
However, difficulties securing inputs and rising costs were a feature of the latest survey. Supply shortages, disruption caused by the coronavirus disease 2019 (COVID-19) pandemic and particular issues importing materials meant that suppliers' delivery times lengthened markedly. In fact, lead times increased to the greatest extent since the height of the pandemic in April. These challenges in securing raw materials contributed to a sharp increase in input prices. Moreover, the rate of input cost inflation quickened for the fourth successive month and was the fastest for two-and-a-half years.
Output prices also rose at a faster pace in December, albeit one that was still much weaker than seen for input costs. The increase in charges was the steepest since July 2018. Despite difficulties sourcing materials, Vietnamese manufacturers were able to achieve a marginal increase in stocks of purchases. On the other hand, stocks of finished goods declined as firms used inventories to help fulfil new orders.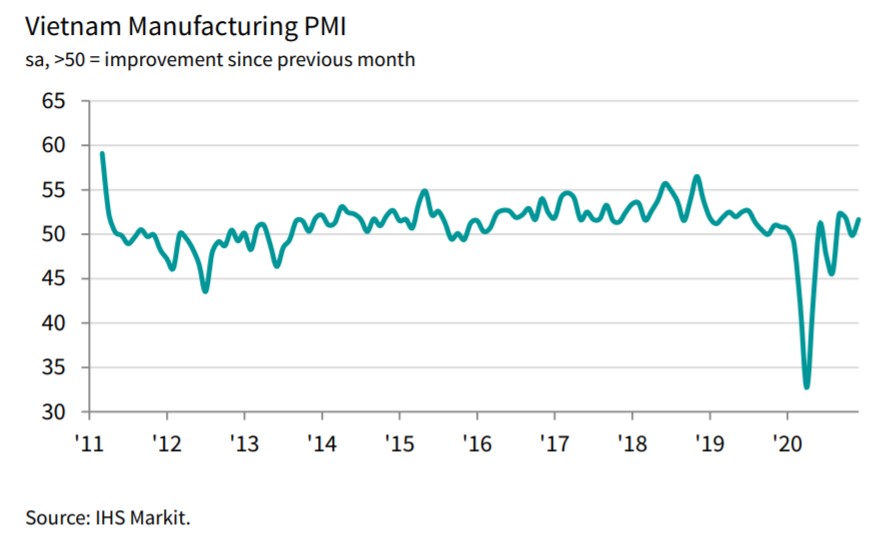 Manufacturers remained confident that output would increase over the coming year, with respondents expecting less disruption from the COVID-19 pandemic. Reports suggested that this would be especially true for export demand, which was severely impacted during 2020.
Approach
The IHS Markit Vietnam Manufacturing PMI® is compiled by IHS Markit from responses to monthly questionnaires sent to purchasing managers in a panel of around 400 manufacturers. The panel is stratified by detailed sector and company workforce size, based on contributions to GDP.
Survey responses are collected by Cimigo Vietnam in the second half of each month and indicate the direction of change compared to the previous month. A diffusion index is calculated for each survey variable. The index is the sum of the percentage of 'higher' responses and half the percentage of 'unchanged' responses.
The indices vary between 0 and 100, with a reading above 50 indicating an overall increase compared to the previous month, and below 50 an overall decrease. The indices are then seasonally adjusted.