Steeper downturn in Vietnamese manufacturing sector in August
Ongoing COVID-19 outbreak causes a substantial reduction in output.
Restrictions lead to the sharpest fall in employment in 16 months.
Fresh record lengthening of suppliers' delivery times.
Cimigo market research has collected the Vietnam PMI – manufacturing purchasing managers index since 2013. The Vietnam PMI is compiled by IHS Markit from responses to monthly questionnaires sent to purchasing managers in a panel of around 400 manufacturers.
Vietnam PMI findings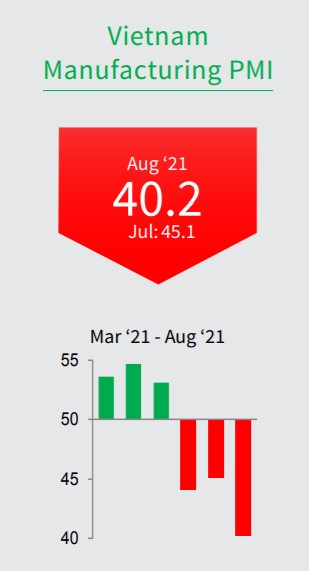 The downturn in the Vietnamese manufacturing sector intensified during August amid the worst outbreak of the COVID-19 virus in Vietnam since the pandemic began. Restrictions leading to the temporary closure of some businesses, social distancing measures and limits on travel to try and contain the spread of the pandemic resulted in accelerated declines in output, new orders, purchasing and employment. 
The unprecedented spell of supply-chain disruption continued amid transportation difficulties and pressure on capacity at the country's ports. This, allied with raw material shortages, placed upward pressure on input costs which continued to rise sharply. 
The Vietnam Manufacturing Purchasing Managers' Index™ (PMI®) fell to 40.2 in August, down from 45.1 in July and signalling the worst deterioration in the health of the sector since April 2020. Business conditions have now declined in three successive
months.
COVID-19 restrictions meant that a number of manufacturers were closed temporarily, while others reported staff shortages and limits on their ability to produce. As a result, output declined at a substantial pace. The rate of contraction was the second fastest on record, behind only that seen in April 2020. A similar picture was recorded with regards to new orders which decreased for the third month running and at the fastest pace in 16 months. The rate of decline in new export orders also accelerated as COVID-19 restrictions made exporting difficult.
The sector's labour market also suffered amid social distancing restrictions. A number of firms indicated that they were operating the '3 in one spot' policy to maintain some staff presence on site, but that not all workers were able to participate in this. Overall, employment decreased for the third month running, and at a sharp pace that was the steepest since April 2020.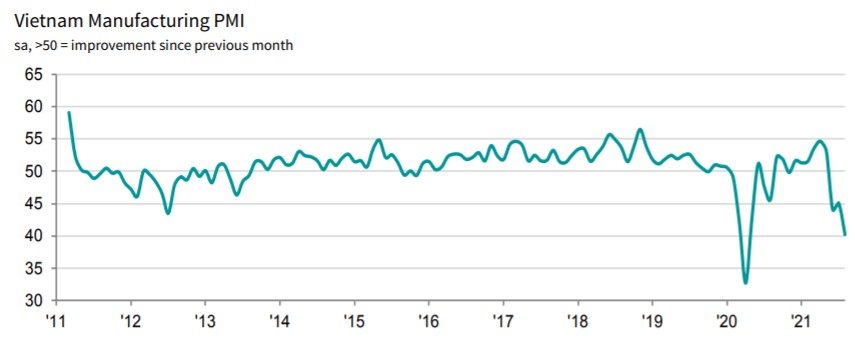 Severe supply-chain disruption continued, with vendor delivery times lengthening at the sharpest pace on record for the second month running. Transportation issues were widely reported, with congestion at ports a result of them being unable to operate at full capacity. Raw material shortages were a secondary factor contributing to longer lead times. 
Raw material shortages and transportation issues led to a further steep increase in input costs, with the rate of inflation remaining among the fastest in a decade. In turn, output prices were also raised, albeit to a much lesser extent than input costs as some firms offered discounts in order to try to secure sales.
August saw a near-record reduction in purchasing activity amid temporary company closures and lower output requirements. Despite the drop in purchasing, stocks of inputs increased for the first time in three months. The accumulation largely reflected the difficulties firms were having in maintaining production volumes.
Business sentiment hit a 15-month low in August as the severity of the current COVID-19 outbreak in Vietnam led a number of firms to predict a sustained period of restrictions on their operations. That said, others were confident of a rebound in production. 
Approach
The IHS Markit Vietnam Manufacturing PMI® is compiled by IHS Markit from responses to monthly questionnaires sent to purchasing managers in a panel of around 400 manufacturers. The panel is stratified by detailed sector and company workforce size, based on contributions to GDP.
Survey responses are collected by Cimigo Vietnam in the second half of each month and indicate the direction of change compared to the previous month. A diffusion index is calculated for each survey variable. The index is the sum of the percentage of 'higher' responses and half the percentage of 'unchanged' responses.
The indices vary between 0 and 100, with a reading above 50 indicating an overall increase compared to the previous month, and below 50 an overall decrease. The indices are then seasonally adjusted.