Vietnamese differs greatly from their neighbours in South East Asia.  Unlike Thais, Malays and Indonesians, the Vietnamese dine with the help of chopsticks. Yes chopsticks. Chopsticks help define Asian cultures in many ways. Vietnamese are culturally closer to their northern neighbour in China and other chopstick wielding Asians in Taiwan, South Korea and Japan.
Chopstick nations produce  Asian cultures that are far more;
Assertive – chopstick cultures are far more assertive in the desire to get ahead of their peers
Confucianism – chopstick cultures are heavily influenced by Chinese Confucianism; respect for;  parents especially, elders generally and teachers specifically.
Nuanced – the difference between public and private facades are more extreme.  Values and behaviour in public are far removed from private behaviour and opinions.  A great challenge for market research.
The influence of chopsticks on Asian cultures is visibly stark in Vietnam, with those in Hanoi being far more assertive, pious even and most certainly nuanced compared to those in HCMC, which is 1,500 kilometres further south of historical Sino influences, albeit a mere two hour flight today.
I recently read Erin Meyer's The Culture Map. An insightful book I sooooo wish I had read on arrival in Asia 25 years ago.   The constructs of Erin's Culture Map help us understand how to interpret different cultures' behaviours relative to our own. So together with my Vietnamese team at Cimigo, we debated where Vietnamese sit on the maps relative to the US and Japan.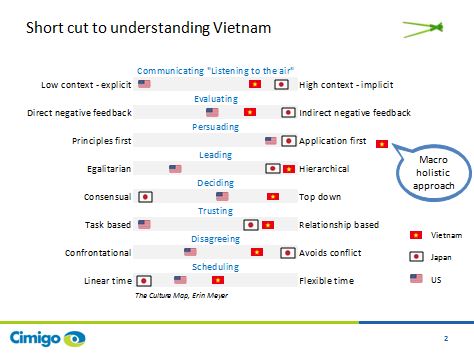 When communicating with the Vietnamese, the nuance certainly requires some listening to the air. Not to the extremes of Japan, but close. Providing feedback to the team is subtle and indirect. A debate and formal presentation is not theory first, nor commercial application first.  It is far more holistic and to me (a UK national) rather long winded.
My own early attempts at being egalitarian have never born fruit and are completely irrelevant in a culture that respects a top down hierarchical leadership style. Decision making in Vietnam is the polar opposite of Japan's consensual style. The Japanese concept of nemawashi consensus building ahead of important meetings is completely alien here.
In Vietnam relationships are absolutely key to building credentials and trust. Conflicts are largely avoided, this was a construct that the team and I most struggled to reach a clear conclusion.  So much depends on the relative status of the person with whom the conflict exists.  In general conflict is avoided but not to the same extent as in Indonesia nor Japan.  Finally in Vietnam meeting times are rather flexible, not as flexible as Indonesia, but leeway certainly exists.
For anyone working across Asian cultures, read The Culture Map and save yourself a great deal of pain!